Ingredients
450g/1lb Lentils
1.1L/40fl.oz. Fresh Vegetable Stock
4 Garlic Cloves, crushed
675g/1-1/2lb Sweet Potatoes, peeled and cut into cubes
550g/1-1/4lb Tomatoes, chopped
325g/12oz Capsicum (Sweet Peppers) deseeded and chopped
325g/12oz Onions, chopped
1 tbsp freshly grated Ginger
1 teasp Cayenne Pepper
1 level teasp Ground Cumin
Salt
Freshly chopped Coriander to garnish
Instructions, How to make Tagine
Place the lentils, stock and garlic in a large saucepan, bring to boil stirring, reduce the heat cover and simmer for 20 minutes.
Add the sweet potatoes, tomato, peppers, onions, ginger, cumin, cayenne pepper and salt. Bring back to simmering point and continue to cook, uncovered, for a further 30 minutes or until the sweet potato is soft.
To serve - garnish with chopped coriander and serve with rice or couscous.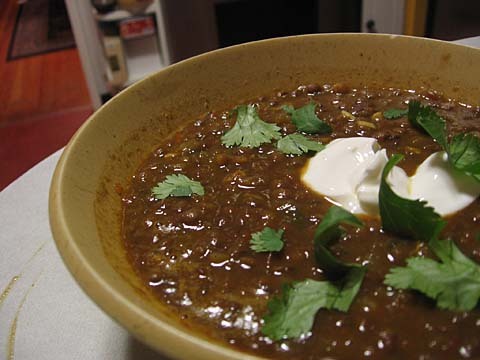 http://www.recipes4us.co.uk/VegetarianMC/Lentil%20Tagine%20Veg%20%20HT%20%20MC%20%20Moroccan%20%2075mins.htm